Accident Repair Centre Poole
Are you searching for the premier accident repair centre Poole has to offer? If so, look no further than Trickett Welding to offer you a fast efficient repair service that will get you back on the road in no time at all. Call us on 01202 625050 or 07831 657 831 to discuss your situation with a team member right away.
How Can Our Poole Accident Repair Centre Help?
Welcome to Trickett Welding, the top accident repair centre Poole residents can always rely on. Regardless of the severity of the damage or the nature of the repair, our professional team is here to offer the finest service in the area at the best price. Please keep reading to find out more about what makes us the number one body shop in Dorset.
There is no request that would be considered too big, too small or too complicated for our accident repair team to take on and successfully complete. Whether you need to fix a few minor scratches or the vehicle is in need of a full body repair, we will have you covered with our bespoke solutions.
We understand that you will want to get an estimate on price before you bring your car into our accident repair centre. This is why we offer free quotations over the phone with absolutely no strings attached. There are no hidden fees to worry about and absolutely no obligation to commit at this early stage of the process.
Simply give us a ring to describe the situation and we will give you a price and a time frame for completion then and there. Should you find the price unsuitable for any reason, you can simply decline our offer. However, we believe our prices to be very competitive and market-appropriate. You have nothing to lose and everything to gain from reaching out to us.
Why Choose Us for Your Car Repairs?
Founded in 1977, Trickett Welding has gone from strength to strength during its four decades of successful operation. A family operated business from the beginning, customer service is at the heart of everything that we do. We have established a loyal client base and a great reputation in the Dorset area as a trustworthy provider.
From the moment you place your initial phone call to our Poole accident repair centre until you leave the premises with your fixed vehicle, you'll get the best service imaginable. Our team members are dedicated professionals with many years of experience and a genuine passion for what they do. You can always expect them to go the extra mile in order to facilitate a customer request.
The work we carry out in our accident repair centre is of the highest quality. When we take on a new project, we will always ensure that you get a long lasting fix. You can have full peace of mind when leaving our premises because you will know that our diligent experts made sure that the repair will last. You can trust us to pay attention to even the smallest of details and never leave a stone unturned.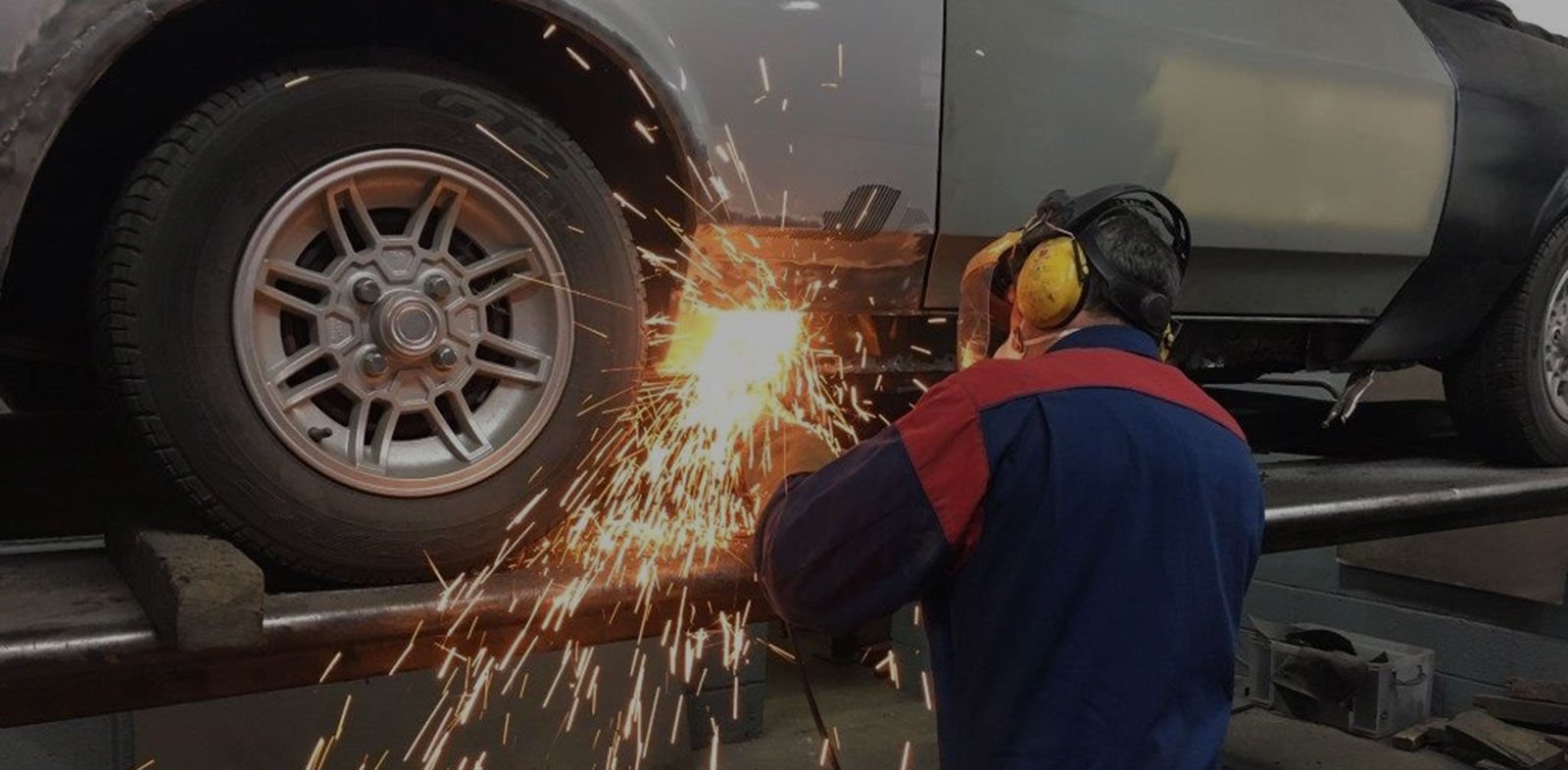 On top of being the most established accident repair centre, Trickett Welding also offers a wide variety of other services. Please follow the links below if you are interested in any of the following works:
What Our Customers Say About Our Accident Repair Centre In Poole
"Called in at short notice and had an exhaust repair welded there and then. Superb customer service. Helped sort out a few other concerns and they went the extra mile in sorting my problems out. Use them and you won't regret it for a second!" – Customer Testimonial
The comment quoted above is only one of the numerous positive reviews that our Poole accident repair centre has received over the years. If you would like to read through more genuine feedback from our happy clients, check out the dedicated page of testimonials found on our easily navigable website. We are also part of the Buy With Confidence Trading Standards Approved scheme.
As you will surely be able to tell from all of the preceding information, the number one accident repair centre is Trickett Welding. Should you have any more questions about any of our services or capabilities, please don't hesitate to reach out using one of the contact methods outlined below.
Contact The Most Accommodating Accident Repair Centre Poole Can Trust
Are you now ready to contact us and start benefiting from the services of the most reliable accident repair centre Poole has ever seen? Give us a ring any time on 01202 625050 or 07831 657 831 to book. You can also reach out by emailing info@trickettweldingltd.co.uk or filling out our simple online form and we will get back to you very shortly.