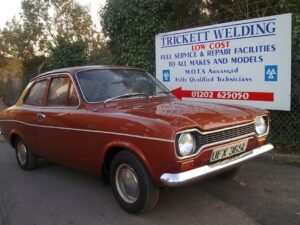 We are a fully equipped car repair garage offering full car servicing and car repairs. We are reliable and professional at all times and take pride in our work. We offer value for money and our work is completed to an exceptionally high standard.
We are a classic car specialists and are proud of our long trading history with over 38 years experience.
We always carry a stock of cars awaiting restoration/improvement to varying degrees. For the customer who requires a car restored to their own individual requirements they can select a base car, specify colours and standard required for which we will provide a written quote and time scale (usually 6 months to a year). The customer is more than welcome to visit and inspect progress and see their car evolve into something very special and unique of which they can be proud.
We at Trickett Welding offer the complete service to anyone who owns a Classic Mini built between 1959 and 2000. We cater for all models whether they be standard, modified, old or new.
Here at Trickett Welding we offer a full service for anyone who owns an Alpha GTV. We cater for all models whether they be standard, modified, old or new.
We are a family run vehicle repair specialists based in Poole, Dorset. Where we offer a fast and friendly service to our customers who come from Poole and the surrounding areas to make use of our excellent service. With a long-standing & proud history for quality & service if you try us once you'll never want to go anywhere else for your car repair, service, waxoyling or MOT needs.