After your car's MOT failure, have you been advised to have the exhaust replaced? Well, do not rush into anything! Here at Trickett Welding Ltd, we offer exhaust repairs Dorset residents will struggle to find elsewhere. Our experienced team will save you money by using our expertise to fix your current exhaust. To find out more, give us a call on 01202 625050.
Low Cost Dorset Exhaust Repairs
If you are not knowledgeable about cars or any other vehicles, then you tend to take a mechanic's claim as gospel. Well, if your car has failed an MOT because of its exhaust, more often than not, the garage will advise you to replace it. This tends to be because they do not have the facilities to carry out exhaust repairs. In Dorset, our team at Trickett Welding Ltd have a solution.
Due to our expert welding services, we are able to offer exhaust repairs, Dorset motorists. So, if your garage has suggested you get a replacement, come to us. Research shows that 9 out of 10 exhausts can be fixed, which will save motorists plenty of money in the long run. Our team are more than happy to inspect your current system.
If you require our Dorset exhaust repairs, then your current one may be on the verge of failing. Unfortunately, many things can lead to a broken exhaust. These include the following:
General wear and tear
Accidental damage
Damaged components
Age
When the exhaust fails, then other problems could surface, including blown gaskets, severed pipework and loose clamps. On top of that, your vehicle could suffer fractured catalytic converters or corroded joints. Plus, there is also a danger of leakage, which is another reason why you should choose our exhaust repairs in Dorset.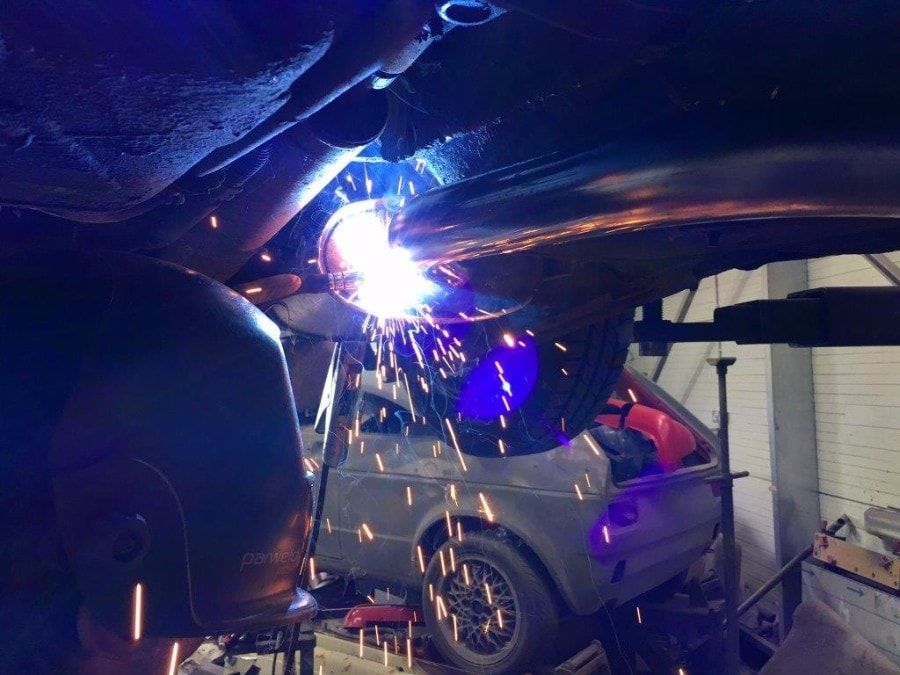 Why Our Exhaust Repairs, Dorset Clients, Stand Out
As mentioned, there are not many garages who have the tools to carry out exhaust repairs in Dorset, which is why we should be your first choice. Our dedicated team at Trickett Welding Ltd are honest and professional. We will not ask you to pay through the nose for a replacement, but rather inspect your system to see if it can be fixed.
Our honesty and transparency as a company comes from our humble beginnings. We were founded by Graham Tricketts, who went from a welding apprentice to establishing our thriving business. After specialising in vehicle repairs, Graham decided to merge a variety of services, which is why we offer exhaust repairs. Dorset is our home and where we welcome customers.
We have accumulated more than 45 years of knowledge in this industry, making us first choice for vehicle welding, rejuvenation and restoration. As well as our expert exhaust repairs, Dorset residents can take advantage of our many other services. Whatever your request, we will provide you with a no-obligation quote.
We have the backing of Trading Standards, and we are a member of the Federation of Small Businesses, so rest assured that your vehicle will be in capable hands.